Rock and Water Program New Zealand
Rock and Water is an evidence-based social skills and anti-bullying programme that has been scientifically proven to decrease bullying, decrease depressive feelings, develop self-control, self-confidence, emotional awareness, resilience, self-respect and self-realisation for students and adults, using a holistic approach. It is used in at least 30 countries and has been delivered to an estimated 2 million young people. Physical in nature, the programme uses  games and exercises to develop strong physical and emotional awareness (mindfulness and much more!), mental strength (including practical and effective strategies for developing and maintaining positive mental health, reduction of anxiety) and social competency (communication skills, assertiveness, dealing with bullying/violence, acceptance of others etc). Rock and Water is proven to reduce bullying, increase self-esteem and self-regulation, and decrease depressive feelings.
Rock and Water New Zealand Ltd provide training workshops for educators (teachers, teacher aides, RTLB, Special Ed professionals, social workers, police officers, youth workers, counselors etc), and we specialise in delivering whole-staff training over one, two or three days.
---
LATEST RESEARCH PUBLISHED MAY 2019:
Important scientific research involving 1203 students in 17 schools has shown that the Rock and Water programme
decreases almost all types of being bullied
decreases two types of (doing) bullying
increases self-regulation (self-control)
higher levels of self-esteem and social acceptance
decline in depressive feelings
This is significant research not only for the programme but for our children and society in general.
---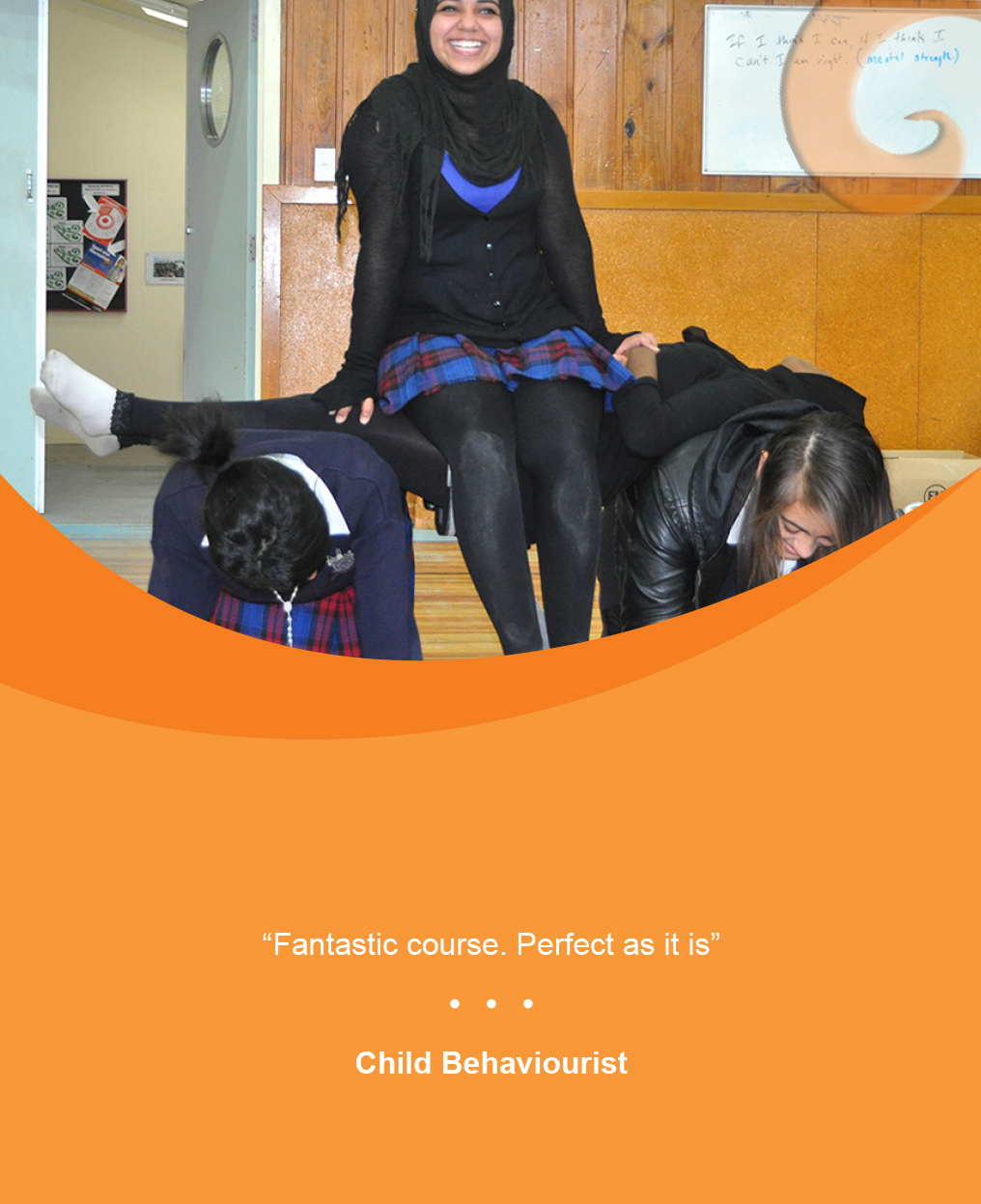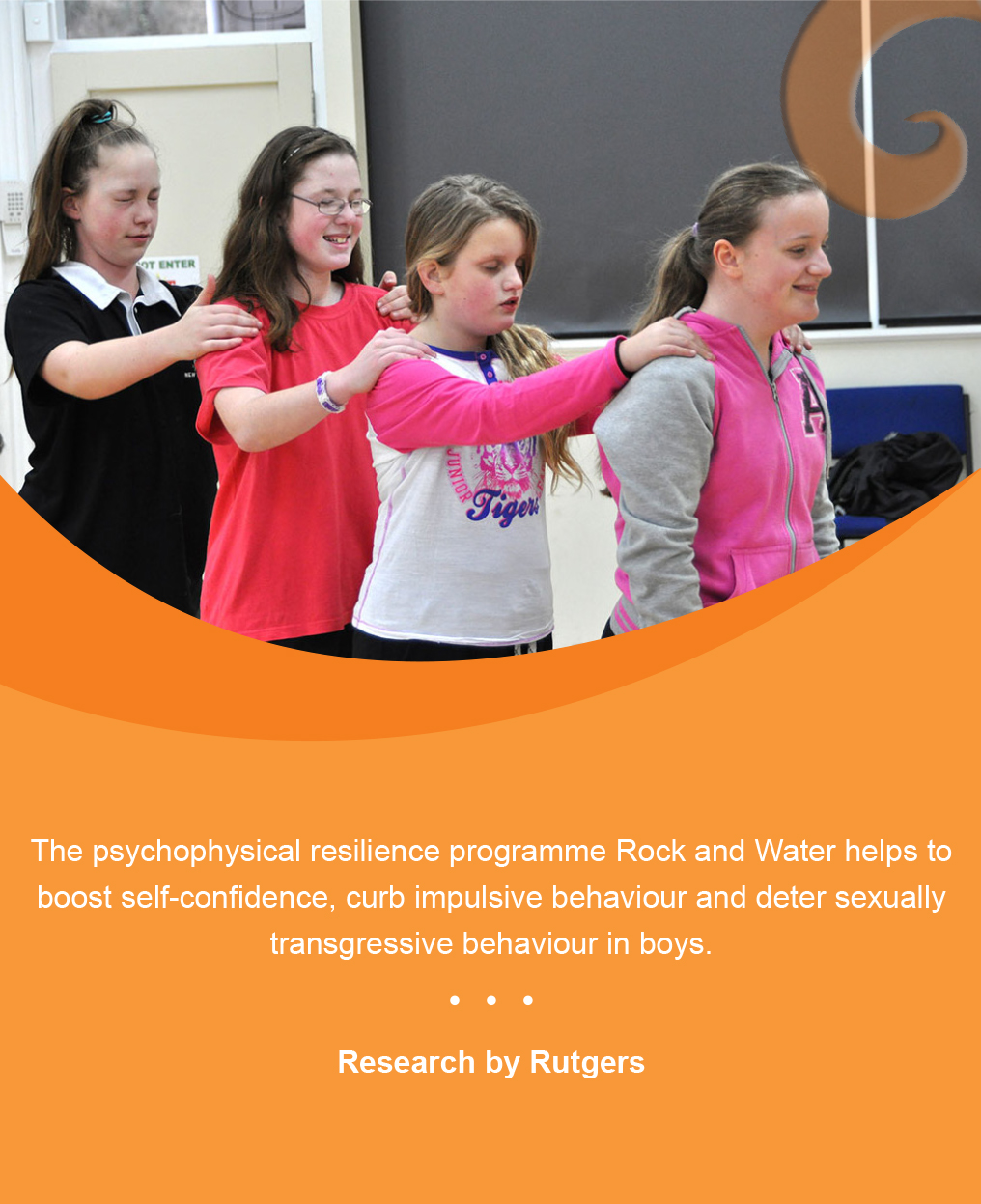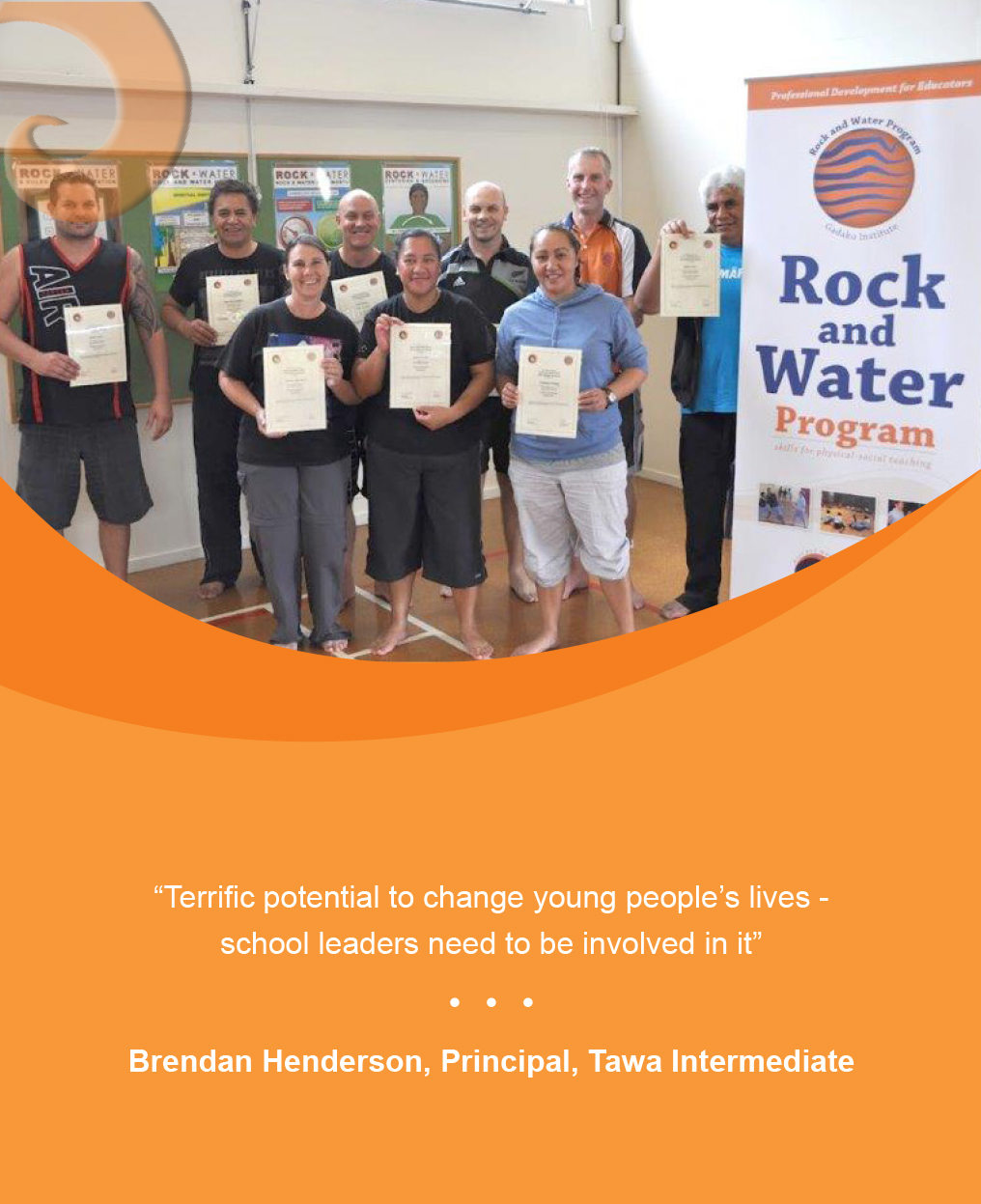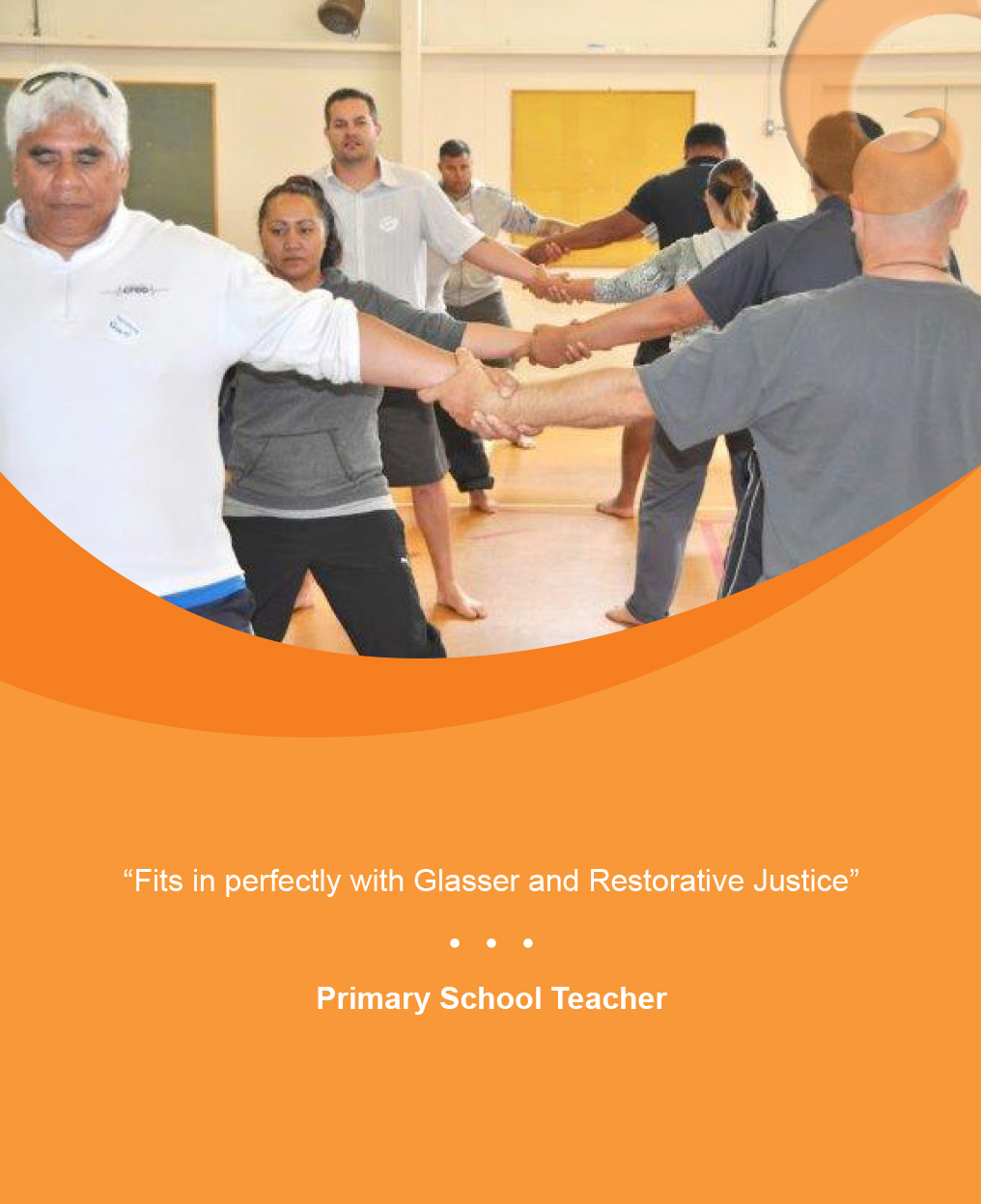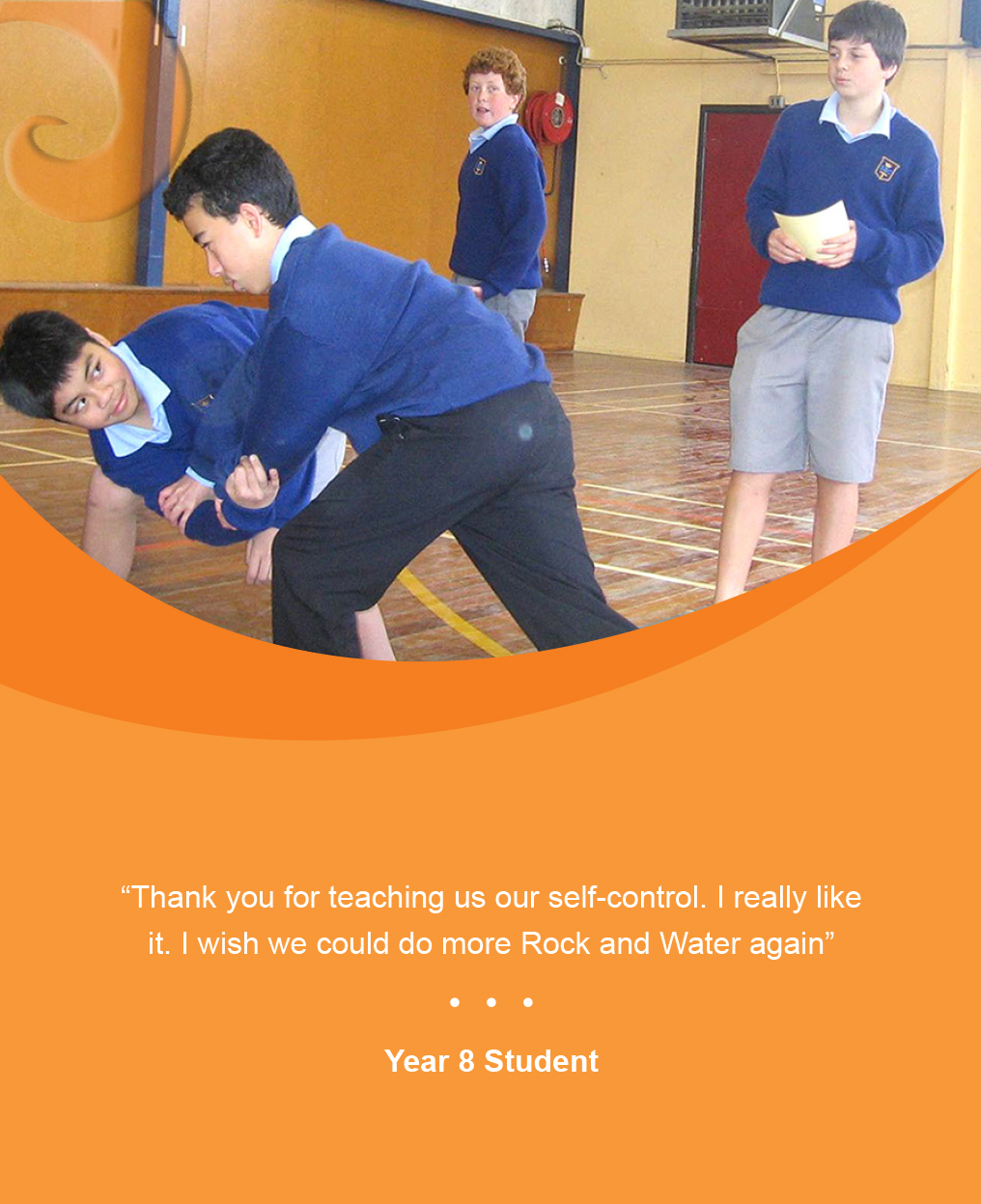 Social Safety Development
Self-Confidence • Self-Awareness • Self-Realisation
He aha te mea nui o te ao
What is the most important thing in the world?
He tangata, he tangata, he tangata
It is the people, it is the people, it is the people
Rock and Water develops empowerment for the participants; connects them to their own strength and feelings, beliefs and values. Participants develop self-confidence and understand they always have a choice in any situation – a Rock action or a Water action – and that the outcome will be influenced by their choice.
The programme develops respect (manaakitanga), caring (whanaungatanga) and solidarity (kotahitanga), using exciting games and exercises to engage, enlighten and empower.
Rock and Water is an incredibly flexible programme and is used in a multitude of ways to meet the specific needs of whole schools and organisations, classes, small groups or individuals:
a powerful social skills/relationship/resiliency development programme
focus on emotional awareness and mental health
to develop a very effective anti-violence / anti-bullying toolkit
can help all students (including those with ASD, special needs etc)
to reduce anxiety
to develop positive, healthy education and work environments
to further enhance the progress made with programmes such as PB4L in schools (bring your values and expectations alive for your students)
it creates a real awareness for educators about how they interact and communicate with our young people.
More scientific research:
Research by Rutgers WPF and the Trimbos Institute (peer reviewed and published in the international Journal of Sexual Aggression, April 2015) has shown that the psychophysical resilience programme Rock and Water helps to boost self-confidence, curb impulsive behaviour and deter sexually transgressive behaviour in boys. The whole article can be found HERE
2019 Workshops
Due to the important research being published in May 2019 and the associated number of inquiries for Closed (in-house) workshops, our Open workshop availability is limited. Further dates for one-day Introductory workshops will be added soon. Please contact us if you would like a workshop in your area, if you would like to host a workshop, or enquire about  a Closed (in-house) workshop for your organisation. More information is available HERE.
NEXT WORKSHOPS:
Our current focus is on delivering whole staff or Closed workshops for organisations or clusters. However, if you would like to attend an Open workshop in your area please contact us and we will make every effort to bring Rock and Water to you.
Accreditation Training   July 8th – 10th   –  Rototuna High School, Hamilton (this is a CLOSED training)
Rock & Water for Children and Adults Living with ASD         NEW DATES October 1st & 2nd 2019       Wellington    REGISTER NOW