One-day Introductory Workshop
The One-day Introductory Workshop covers the fundamental theory, games and exercises from the Rock and Water programme.
Trainees are provided with a quality manual that illustrates the content covered as well as providing information and advice for implementing the programme. As with all Rock and Water trainings, this workshop is active, collaborative and a fantastic way to familiarise yourself or your staff with the Rock and Water programme and to begin to implement it into your work and life.
Topics covered
Standing strong (grounding, centering and focusing) – learning to stop and think before you respond.
The Rock and Water attitudes (from a physical, mental and social perspective) – what does the Rock or Water attitude feel and sound like? How will others respond to my attitude chosen?
Body language – first impressions count!
Breathing strength exercises – calmness under pressure, clear thinking….able to make a choice.
Boundary awareness and effective anti-bullying exercises – we all have our boundaries, how do we communicate them?
Communication skills – we can choose our language to suit the situation.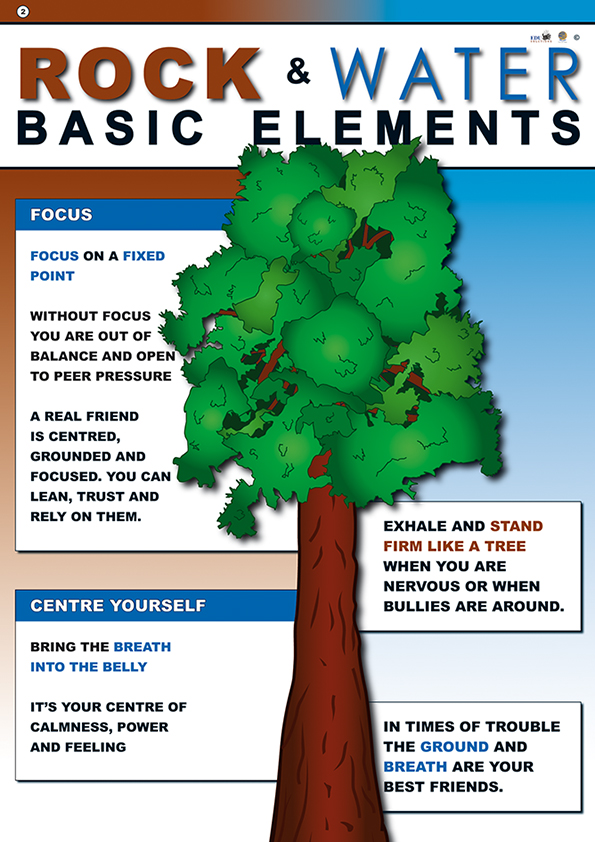 Optional closed (in-house) one-day training
Closed one-day trainings are for schools, organisations and clusters. The cost includes 16 one-day manuals, the Rock and Water Theory book and the Rock and Water Basic Exercises DVD. A maximum of 30 staff can attend (extra participants incur further costs). The one-day training is a fantastic team-building experience, a great way to generate whole staff understanding and to get the programme running in your school, organisation or community. Organisations are able to arrange their own closed one-day training by contacting Rock and Water NZ on rockandwaternz@gmail.com.
2021 Workshops
|  Wellington | Christchurch | Hamilton |
| --- | --- | --- |
| TBC | TBC | TBC |
| | | Other venues on request |
| | | |
If you would like to attend an Introductory workshop in your area please let us know. We are happy to schedule workshops in rural areas etc, but require minimum numbers for workshops to proceed.