Three-day Accreditation Training
This workshop covers the whole programme, and details how to deliver Rock and Water to children and adults from 9 years of age upwards.
Enlightening theory sessions about Rock and Water in the NZ Curriculum, boys and girls education, learning styles, personal development, getting started and the theory behind the programme.
A comprehensive, detailed NEW manual has been developed, comprising of 24×90 minute lessons (or 48 x 50-minute lessons).
All participants receive supporting resources including a USB stick (containing the Basic Exercises Instructional videos and role-play scenarios), Student Journals 1 & 2, and certification.
Participants on the three-day training regularly experience fantastic personal development for themselves, as well as developing effective teaching skills and learning about an exciting programme.
This is the ideal workshop for those wanting to deliver Rock and Water programmes to participants nine years and older.
Trainees are accredited to deliver Rock and Water programmes to students and clients, but are not allowed to train other facilitators.
Cost: $695 plus GST, includes manual, certification, USB resources and catering.
Rock and Water New Zealand Ltd is proud to work in conjunction with the international Gadaku Institute. We are the sole providers of training for educators wanting to run Rock and Water Programmes in New Zealand.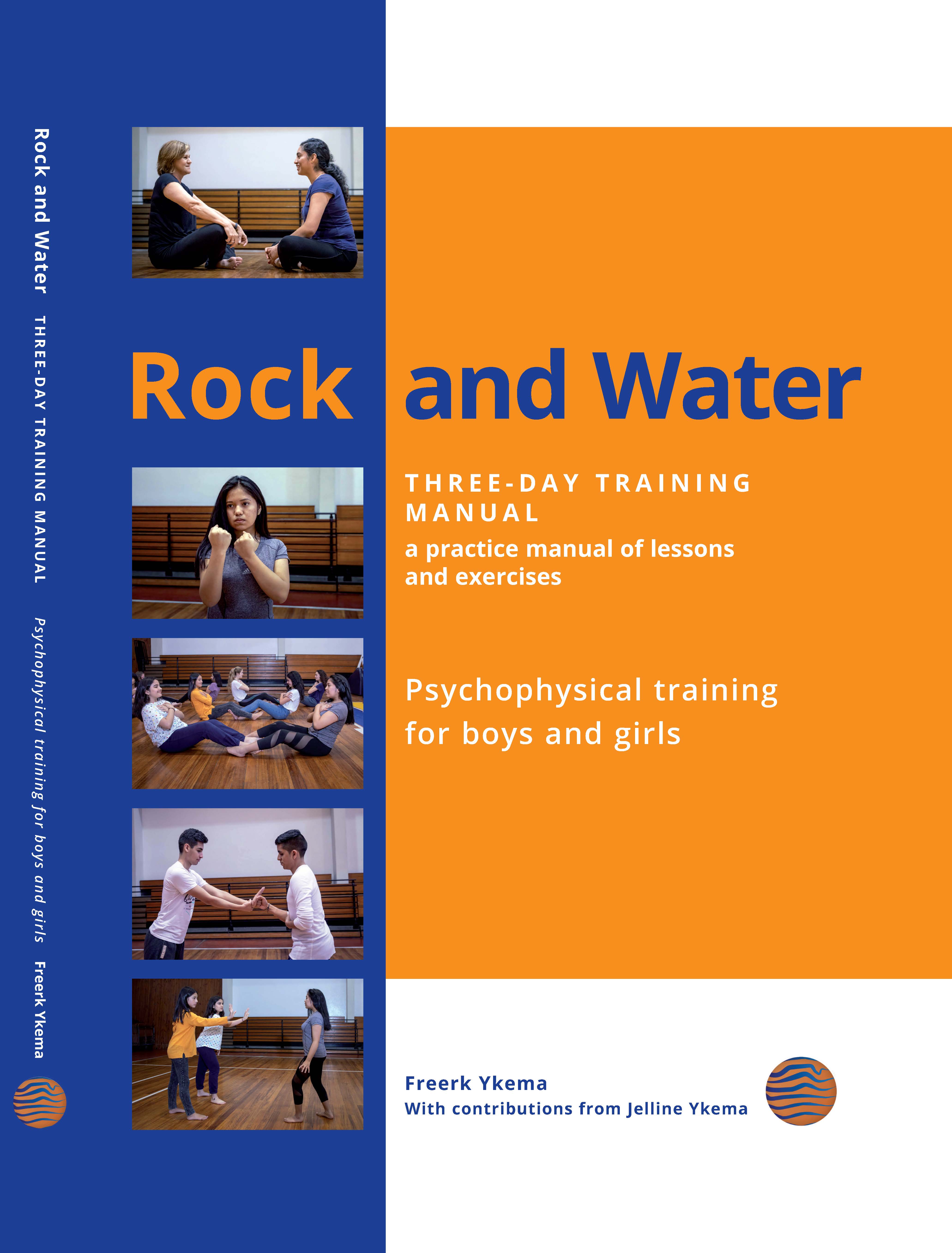 Topics covered
Standing Strong – physically and mentally
Learning how to deal with pressure
Building a Rock Castle – my Rock body/feeling – standing up for myself, my values
Building a Water Castle – standing up for myself in a different way, different feeling!
Rock and Water in verbal communication – choosing my words carefully
Rock and Water in the playground – how do I walk around, show respect for others
Rock and Water in relationships – what kind of friend am I? Too Rocky/Watery?
Breathing Strength – to extend self-control and physical power
Body Language – what is it ? Why it is important. How it affects myself and others
Boundaries – feeling, setting, respecting, helping others
Intuition – warning signals, which way should I go?
How to deal with a threatening group – look and feel calm/strong
Mental Strength – concentration, visualisation, conviction
Inner Strength – the inner compass – what do I feel is the right way to go?
Group pressure – dynamics, tensions, independence
The Three Steps Plan – positive thinking and positive visualisation
Sexuality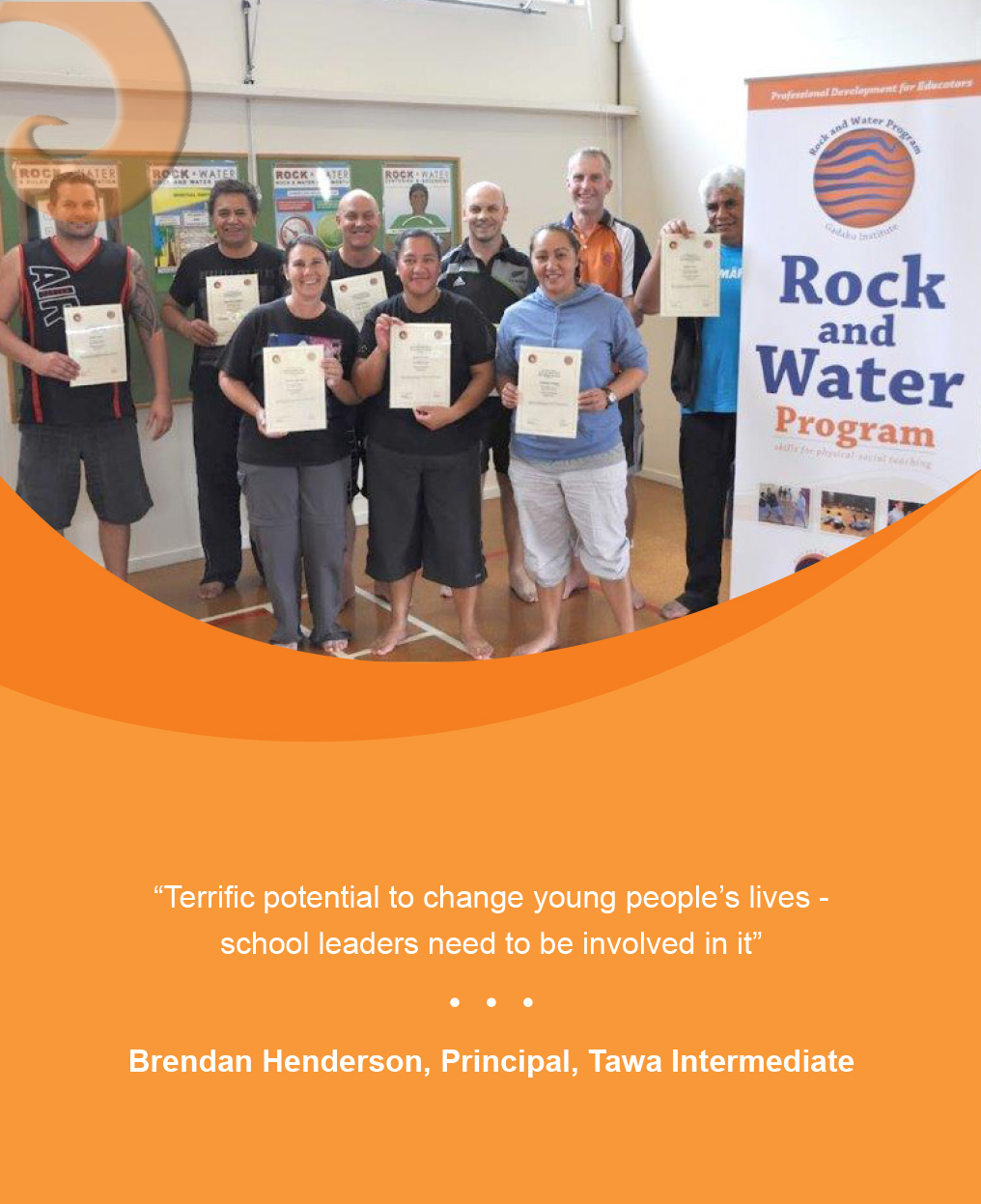 Recent Training Feedback:
" I can't wait to bring this to my home and school. I would encourage the other staff to also participate in this program" Area School teacher, January 2023.
"Be great to get this in to teacher training colleges" RTLB Co-ordinator, January 2023.
"I can use and teach the skills to clients in out mental helath service" Community Mental Health Worker, January 2023.
2023 Training Dates
More dates for 2023 will be scheduled – let us know if you are interested in having a local workshop or a workshop just for your team. We are always looking for host organisations – great benefits apply!
Tawa Int, Wellington

Nov 30 – Dec 2nd 2023

(New  dates)

Wanaka Primary School

May 25th –

27th 2023

REGISTER
Please contact us if you would like a training programme in your region, or register below.
Optional Closed (In-house) three-day training
A closed three-day training covers the whole Rock and Water programme and is for up to 30 staff from one organisation or cluster. Extra staff may participate by arrangement. Each participant receives a comprehensive manual, certificate and evaluation form. This training cannot be advertised externally or a per delegate fee charged.
Please contact Rock and Water NZ at rockandwaternz@gmail.com if you are interested in a Closed Three-Day Workshop.