Rock and Water for Primary and Intermediate Schools
This two-day training will introduce the new "Rock and Water across Primary Schools" resource. A new manual (2020) and training has been developed to allow Rock and Water principles to be easily introduced in a highly flexible, fun and exciting way to children throughout their Primary-years schooling.
The new manual contains over a hundred lesson plans, so teachers, or a  trained facilitator, can follow a clear programme of development for their students, throughout their Primary and Intermediate School education. The lesson plans allow facilitators to achieve maximum results with minimal preparation, a key consideration in our pressured education environment. Used as a whole-school approach, this is an ideal complement to PB4L programmes. Everyone in the school will understand what a Rock attitude or a Water attitude is – what it feels like (body/emotional awareness), sounds like (the words we use), looks like (body language); and how different outcomes are likely according to which attitude is chosen. A common language permeates among the students and staff and allows for meaningful, respectful and empathetic communication.
By committing a short amount of time to physical activity and play, you will enhance the social-emotional development of children hugely, resulting in a happier and more resilient child, socially better adapted, and more confident in their use of language and mathematics. Using Rock and Water is not 'taking away' from more academic areas or your current programmes, but enhances them …. think of Rock and Water as a sauce for the curriculum you already provide to the students!
Teach the kids to play, work and live together like only Rock and Water can!
What could Rock and Water do for your classroom or school?
Connected, confident, respectful, self-managing students
Enhance your PB4L, Glasser, Restorative Practice programmes
Reduce or eliminate bullying and anti-social behaviours
Reduce anxiety
Provide a school-wide language that everyone understands and relates to
Reduce time spent dealing with incidents and increase time spent on positive behaviours and learning
Calm, focused learning environments
Build social skills that will be with the students for life
Cost $545 plus GST, including hard-backed colour manual, Primary Journal, certificate and catering.
To discuss whole staff professional development please contact us. We are able to split training days if required (second day to follow within 12 weeks of the first day).
Whole staff workshops (we call these Closed workshops) can save you around 40% per person.
Training venues wanted
We are actively looking for training venues across New Zealand. We require a hall/gym and access to a data projector and catering facilities. Hosting a Rock and Water training is a great way to aid the development of the programme in your organisation or school. A host receives a free place on the training. If you are interested in hosting a training, please email rockandwaternz@gmail.com to register your interest.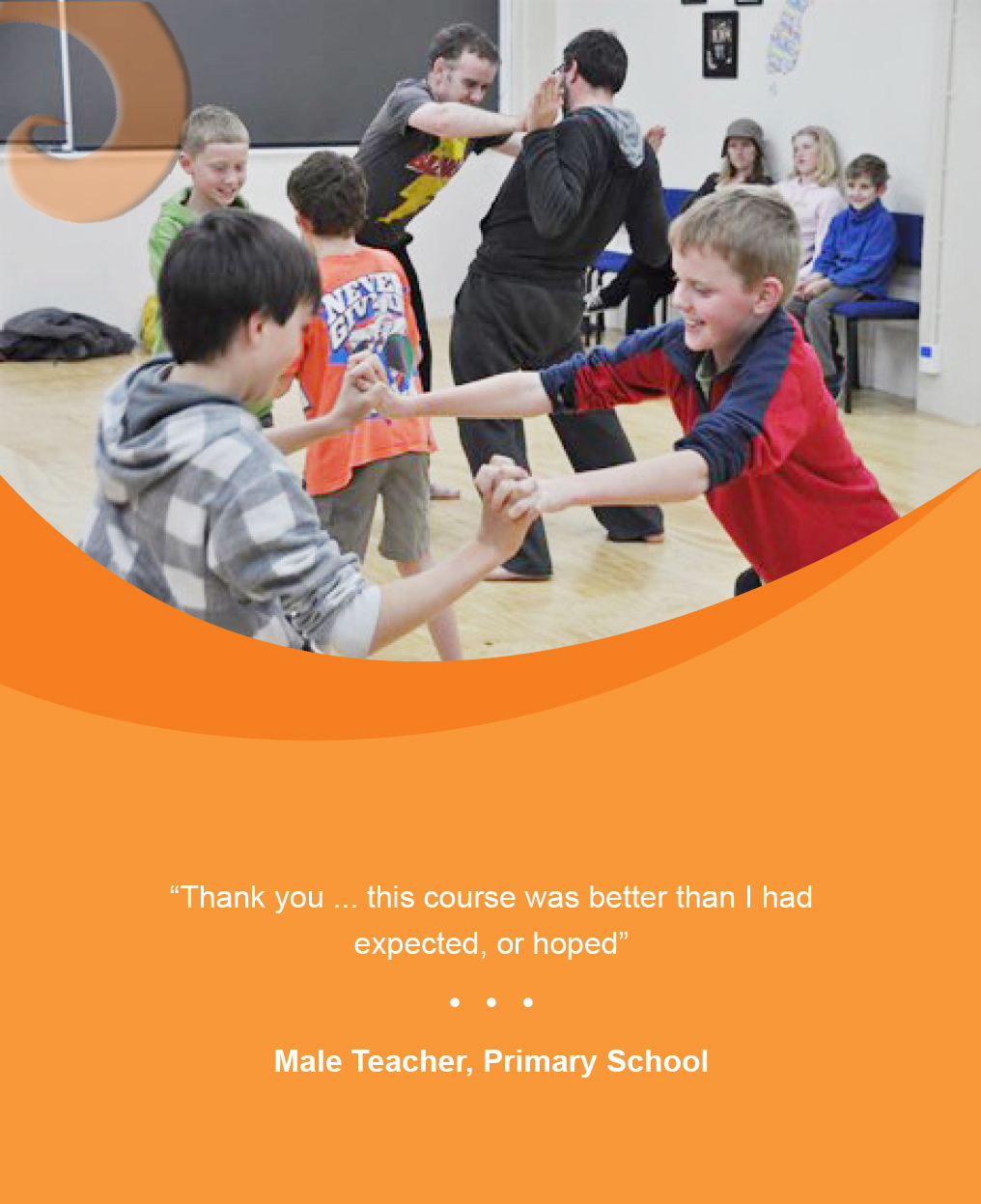 Participants do not have to have participated in a Rock and Water workshop before participating in a Primary School training. However it is recommended that at least one or two key personnel in a school or organisation have attended the three-day Accreditation training.
2024 Training Dates
Wellington May 30 – 31 2024
Hamilton September 26 – 27 2024
Please contact us if you would like a training in your area or at your school.
If you would like to attend a two-day primary workshop in your area please let us know. We are happy to schedule workshops anywhere around NZ, but require minimum numbers for the workshop to go ahead.
To register for the above dates, please see below.
Closed (in-house) workshops for whole schools and organisations
For a school, cluster or organisation that would like to develop a comprehensive approach to Rock and Water, a Closed training is an ideal way to do so. Rock and Water NZ can offer two-day trainings for Rock and Water in Primary and Intermediate Schools, either on consecutive days, or with a negotiated period between the individual days. We love training the whole staff – that's teachers, teacher aides, office staff, caretakers etc – build a connected, motivated team – the students will see and feel the difference!
A school can therefore commit the whole staff to a one-day training on one date and then have the second day of training later in the term. This allows the staff to learn new skills, return to the classroom and deliver the programme, then return for a further day of training. The second day of training will introduce new games and activities as well as review progress.
Contact Rock and Water New Zealand for more information – rockandwaternz@gmail.com.
Workshop feedback
Workshop feedback from whole school training workshops for the staff of Manurewa East School in South Auckland and Corinna School in Porirua  was outstanding.
100% of participants felt ready and willing to deliver the programme to their students and every participant felt that their students would benefit hugely from the programme.
We achieve consistent, powerful feedback from workshop participants who are inspired, enlightened and motivated to enhance their current programmes and pass on the Rock and Water knowledge to their students, young and old.
Extracts of evaluations from Corinna School whole staff Primary Workshop:
"Fits in perfectly with Glasser and Restorative Justice"
"Participants develop an understanding of why they react/behave in certain ways and practice using effective techniques/skills"
"All [training content] will be useful to give us choices, to feel connected, strong and happy"
"Fits beautifully with what we already use to reflect and change our behaviours to get what we need"
"Our children will benefit and so will we personally"