As we return to our 'new normal' there has been no better time than now to think about Rock and Water for our young people.
At a time when we have been isolated from each other, feel anxious about our futures, and risk losing connection with ourself and those around us, reconnection is vital.
He aha te mea nui o te ao. He tāngata, he tāngata, he tāngata
What is the most important thing in the world? It is people, it is people, it is people.
Rock and Water Programme New Zealand
The Rock and Water Programme:
evidence-based, scientifically proven programme
Health and Wellbeing focus
Social Emotional Learning
authentic Hauora in action!
used to develop vital covid coping skills such as social skills, self-control, self-confidence, emotional awareness, resilience, self-respect and self-realisation for students and adults, using a holistic approach.
Physical in nature, the programme uses  games and exercises to develop awareness and wellbeing through strong physical and emotional awareness (mindfulness and much more!), mental strength (including practical and effective strategies for developing and maintaining positive mental health, reduction of anxiety, resilience) and social competency (communication skills, assertiveness, dealing with bullying/violence, acceptance of others etc).
Rock and Water New Zealand Ltd provide training workshops for educators (Primary and Secondary teachers, teacher aides, RTLB, Special Education professionals, social workers, police officers, youth workers, counselors etc),
We specialise in  whole staff training for schools and NGOs.
Supported by the NZ Ministry of Education (including the funding of special projects).
Various comprehensive research projects have highlighted benefits for children of Primary and Secondary school ages.
Rock and Water New Zealand Ltd is proud to work in conjunction with the international Gadaku Institute. We are the sole providers of training for educators and organisations wanting to run Rock and Water Programmes in New Zealand.
LATEST RESEARCH 2021
A four year study of the effects of Rock and Water delivered to students (age 11-13) at pre-vocational colleges in The Netherlands. Students at pre-vocational colleges are considered to have a higher propensity for behavioural, social skill and risk-taking problems. The study, in which 1,299 students participated, took place between 2016 and 2020 and was carried out by the University of Utrecht (in the Netherlands).
Results show that students who have had the R&W intervention show better development on multiple outcomes in both the interpersonal domain (aggression) and the intrapersonal domain (psychological well-being, sexual autonomy, internalizing behaviour) and on secondary outcome measures (self-control and emotion regulation), compared to the students who did not receive the R&W intervention.
The outcomes were strongest when a core team of teachers was involved in the implementation of the intervention. The dissertation can be found here.
Primary School research 2019:
A comparison study focusing on children aged 7-14 and carried out by the University of Utrecht (published April 2019) can be found here.
BRAND NEW POSTERS NOW AVAILABLE – check out the new A2-sized poster set for Primary/Intermediate Schools on the Resources page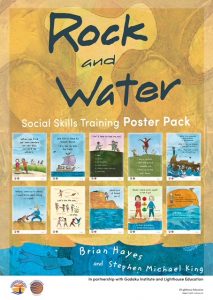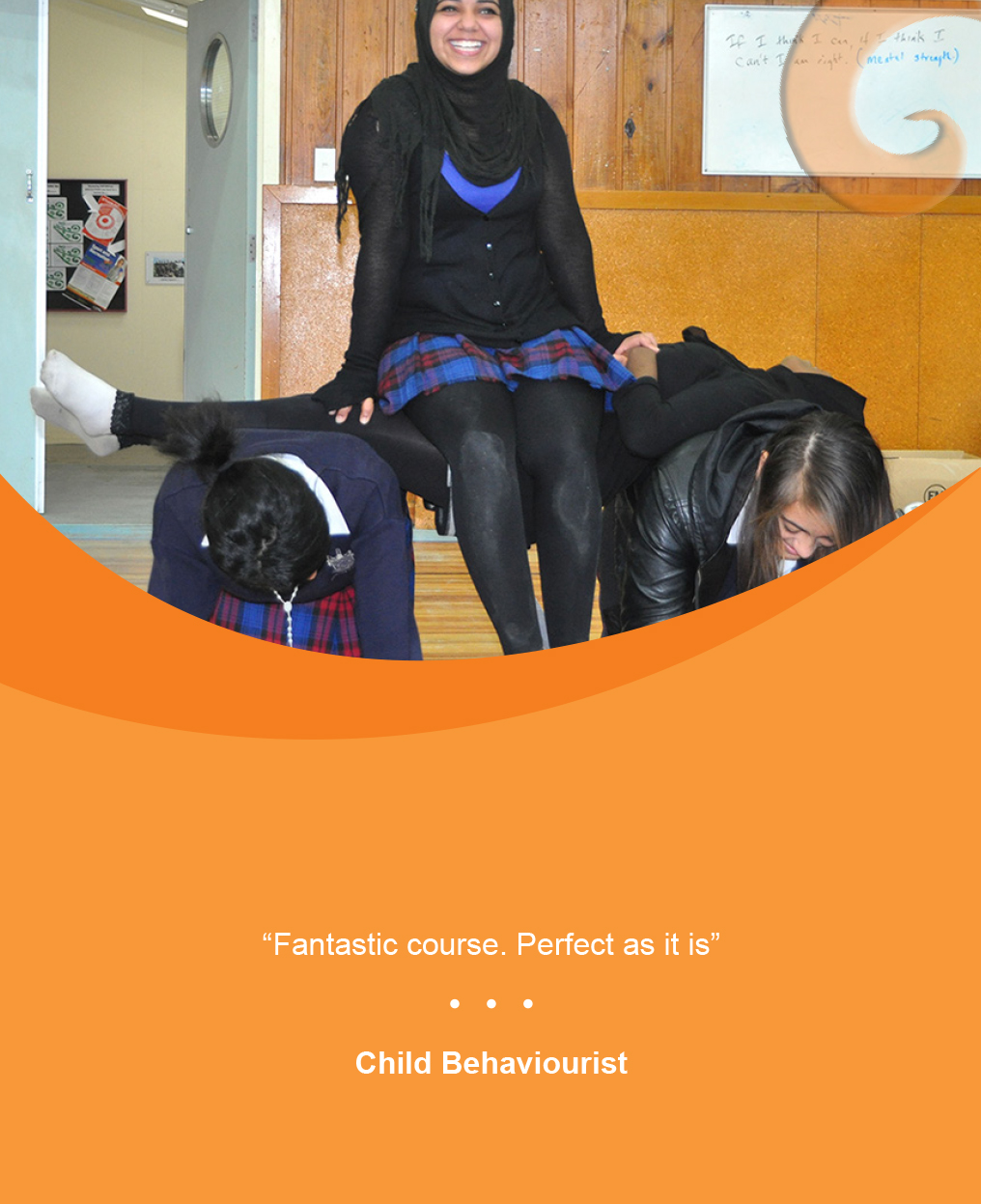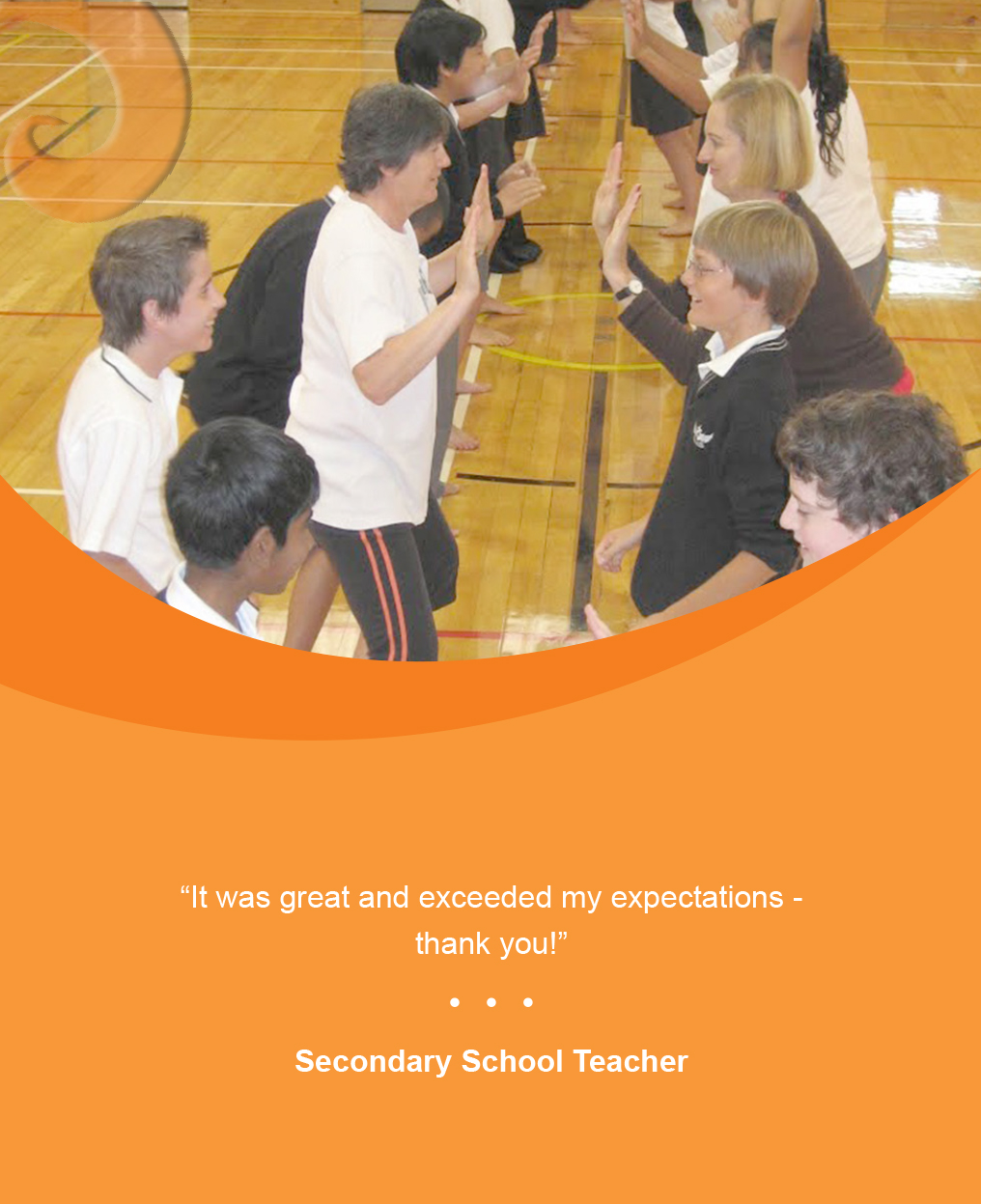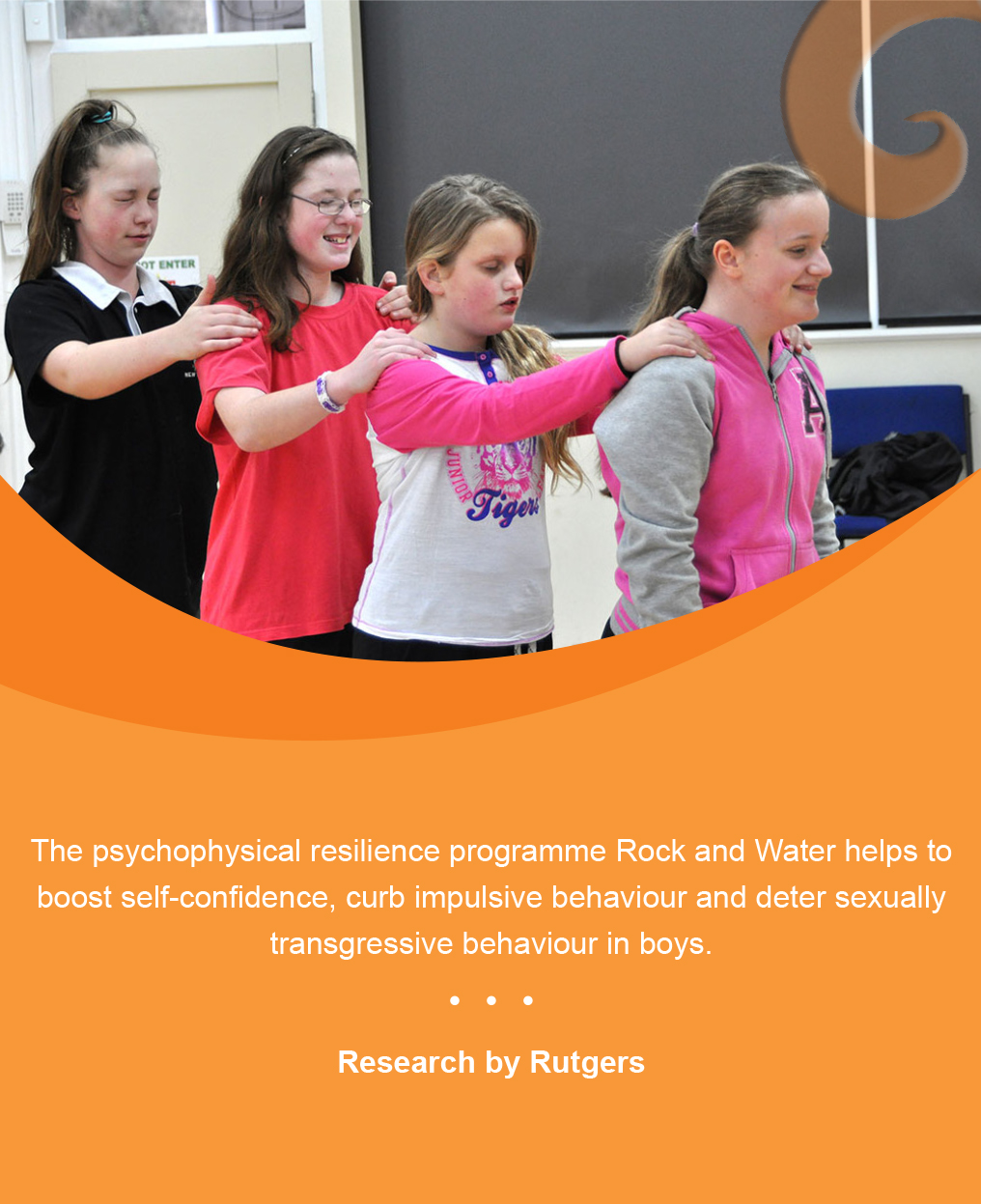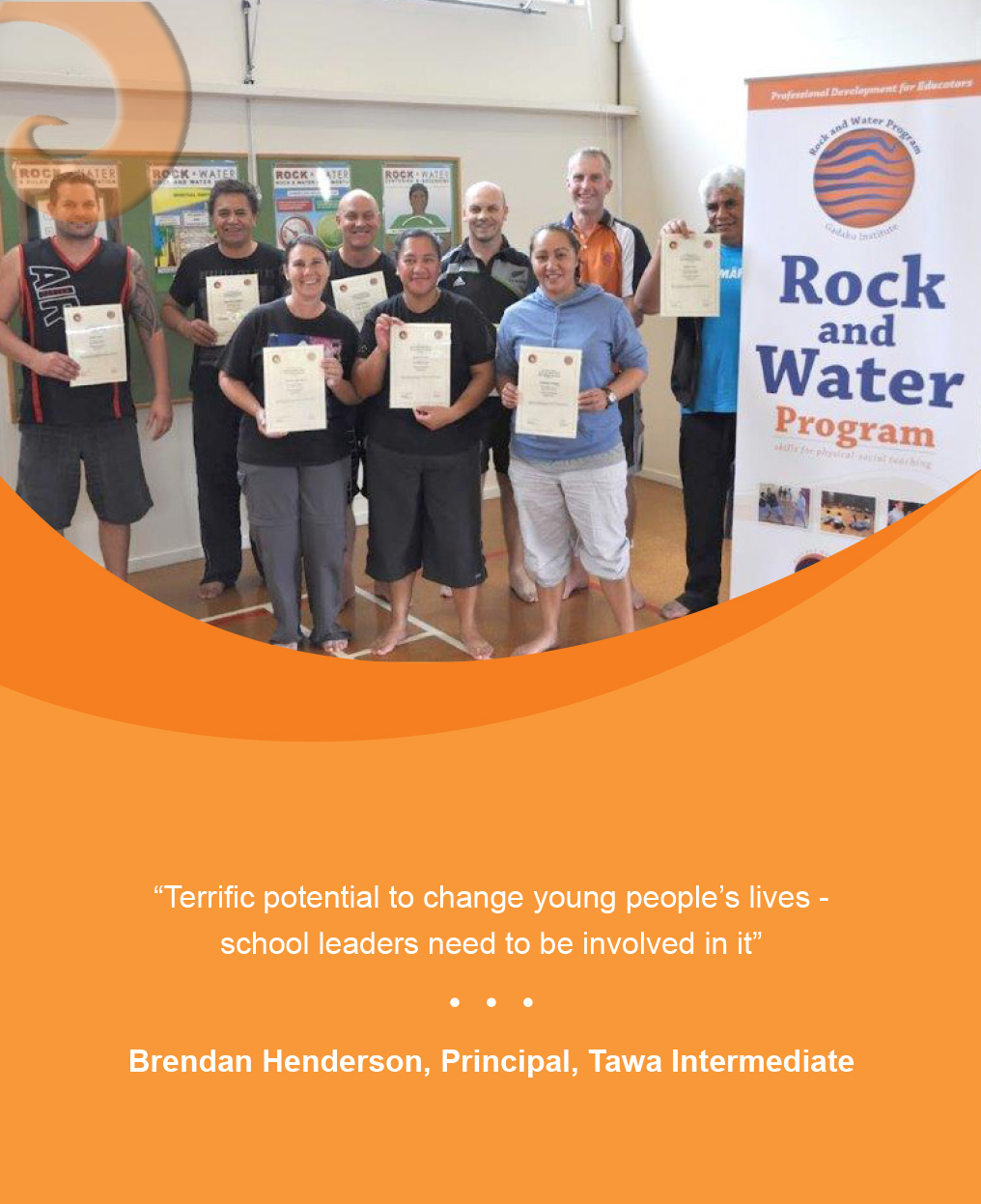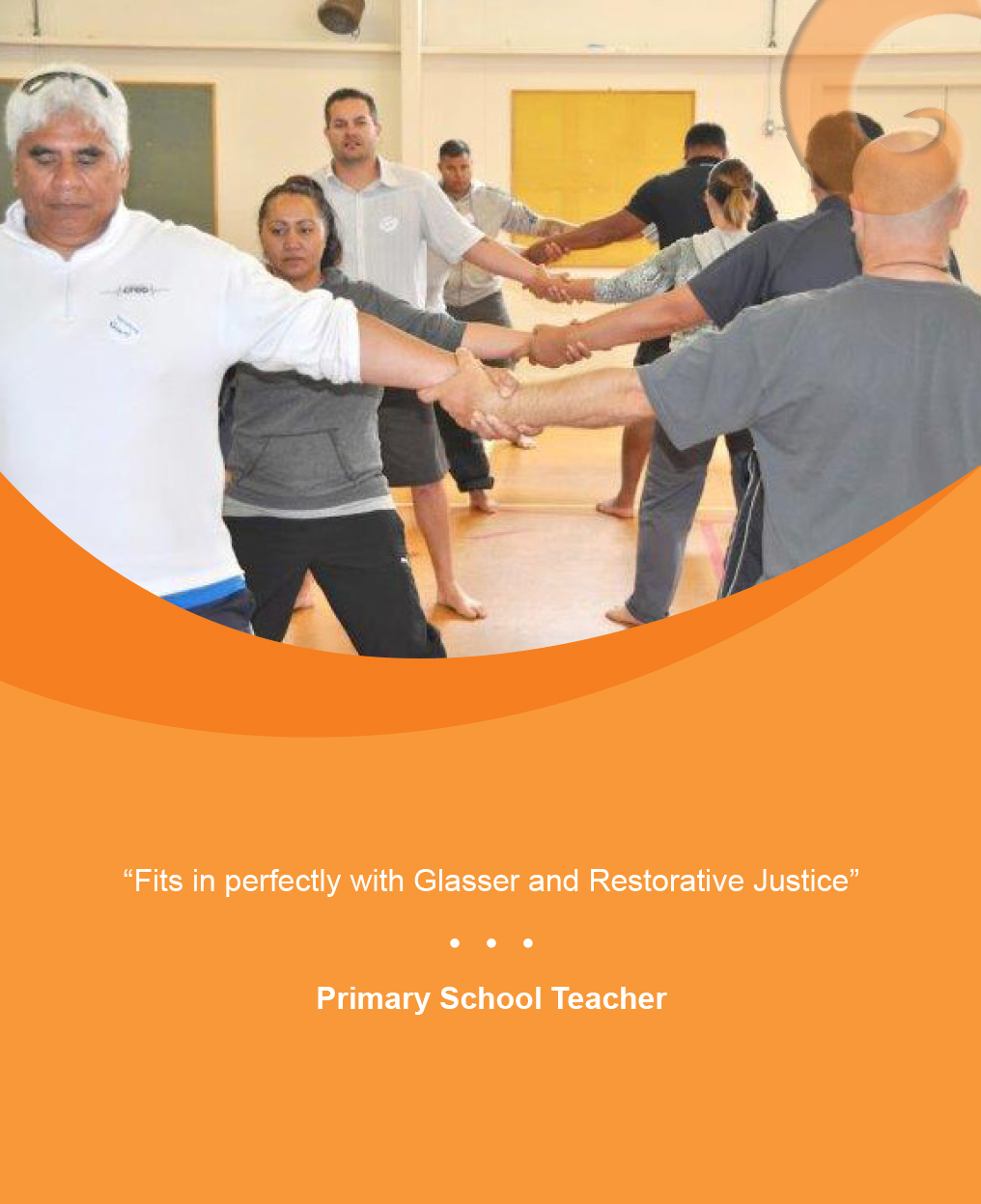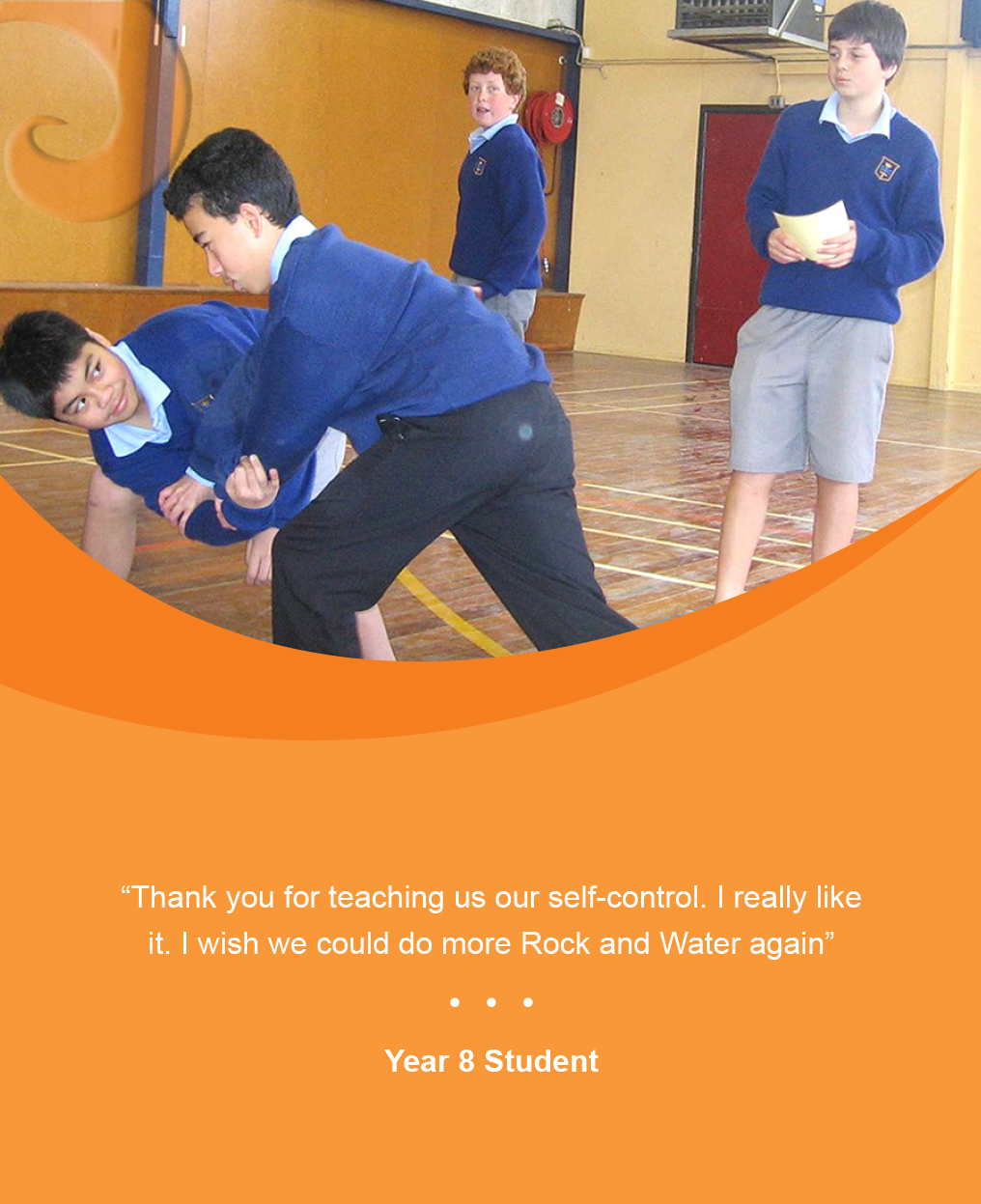 Social Safety Development
Self-Confidence • Self-Awareness • Self-Realisation
Rock and Water develops empowerment for the participants; connects them to their own strength and feelings, beliefs and values. Participants develop self-confidence and understand they always have a choice in any situation – a Rock action or a Water action – and that the outcome will be influenced by their choice. The programme develops respect (manaakitanga), caring (whanaungatanga) and solidarity (kotahitanga), using exciting games and exercises to engage, enlighten and empower. Rock and Water is an incredibly flexible programme and is used in a multitude of ways to meet the specific needs of whole schools and organisations, classes, small groups or individuals:
a powerful social skills/relationship/resiliency development programme
focus on emotional awareness and mental health
to develop a very effective anti-violence / anti-bullying toolkit
can help all students (including those with ASD, special needs etc) to reduce anxiety
to develop positive, healthy education and work environments
to further enhance the progress made with programmes such as PB4L in schools (bring your values and expectations alive for your students)
it creates a real awareness for educators about how they interact and communicate with our young people.
Research by Rutgers WPF and the Trimbos Institute (peer reviewed and published in the international Journal of Sexual Aggression, April 2015) has shown that the psychophysical resilience programme Rock and Water helps to boost self-confidence, curb impulsive behaviour and deter sexually transgressive behaviour in boys. The whole article can be found HERE
2022 Training Workshops for Educators