Why develop Rock and Water in schools?
Rock and Water offers educators a new way to interact with youth through physical-social teaching
Ultimately participants learn about themselves, who they are, what their strengths are, what their dreams are, and how to follow them. At the same time, a real connection and awareness of communicating with others is developed, of respecting the values and opinions of other people and learning how the way we react to situations shapes the reactions of others.
The physical aspect of the programme allows the participant to connect with and build, their mental and social skills.
The benefits to schools and communities
Rock and Water is a fantastic addition to your school-wide programmes, such as PB4L.
Whatever values and goals you set as a school community can be focused on through your Rock and Water programme. The programme brings those values and goals alive for your students – they get to see, hear and feel exactly what is involved.
Rock and Water builds hugely positive skills – self-control, self-awareness, self-confidence and social competency for all students = less time sorting out behavioural and inter-personal problems.
Additional benefits are:
Calmer and more cohesive environments – students learn to play, learn and live together respectfully
A common language is developed – "were you Rock or Water there….and what happened? What could you do differently next time? How is that likely to change the outcome?"
Safer school communities – students who feel anxious at school, who may be afraid, or feel alienated, will struggle to learn effectively. Every school wants to produce positive, communicative students who are good decision makers, happy with who they are and able to communicate positively with those around them.
Reduction or elimination of bullying and anti-social behaviours – develop self-confidence, awareness and communication skills for every student.
What Rock and Water teaches students
Self-control, self-respect, self-confidence
The importance of body language
Morality and integrity
How to be calm under physical, mental and social pressure
To be strong and assertive
To develop the right amount of self-confidence
To get along with each other
Understand and respect differences, to be tolerant of differences
How to deal with anxiety, mental health issues, confrontation and
emotions in a positive way; and
To recognise their strengths and goals in life
Self-realisation – being the person they want to be
Topics for the older students include looking at what is a real man/woman, sexuality, spirituality and solidarity.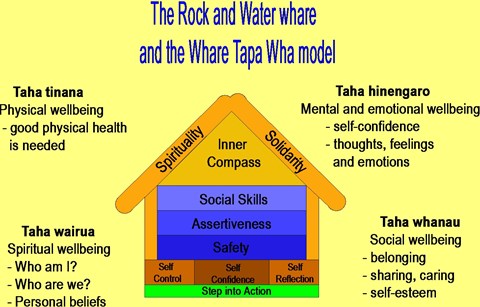 "The benefits are huge for our communities to be utilising such a simplistic, ​safe and self-respecting way of communicating, interacting and engaging with each other professionally, personally, positively or whenever negativity/conflict has a place.
Well done on a superb, extra-ordinary programme based on everyday simple and compassionate strategies … I loved it… Thank you, thank you, thank you."
Rock and Water is research based
Widespread research indicates that for a programme to have success in a school it needs to be:
1. Long Term
Rock and Water can be introduced at various year levels to allow continuity and development. As students progress through the school they can be introduced to more concepts, skills and competencies.
2. Sustainable
Once staff are trained they can develop the programme in their school day after day, year after year. There will be regular trainings available for new staff as well as refresher trainings to hone skills and introduce new activities.
3. Simply resourced
Rock and Water lessons can be delivered using few specialised resources – space and enthusiasm are the main criteria. Extra resources such as posters, strike pads and gym mats are fantastic, but not essential. Every trainee receives a manual of the exercises and discussion frameworks.
4. Of a coherent framework
The Rock and Water manuals provide a clear structure to the programme and suggestions for programme development.
5. Evidence based
Rock and Water has been scientifically validated to decrease coercive and intimidatory behaviours, increase self-control and self-confidence. There are also smaller-scale case studies available in the book 'Bringing it together – 22 case studies', as well as feedback from staff and students on this site.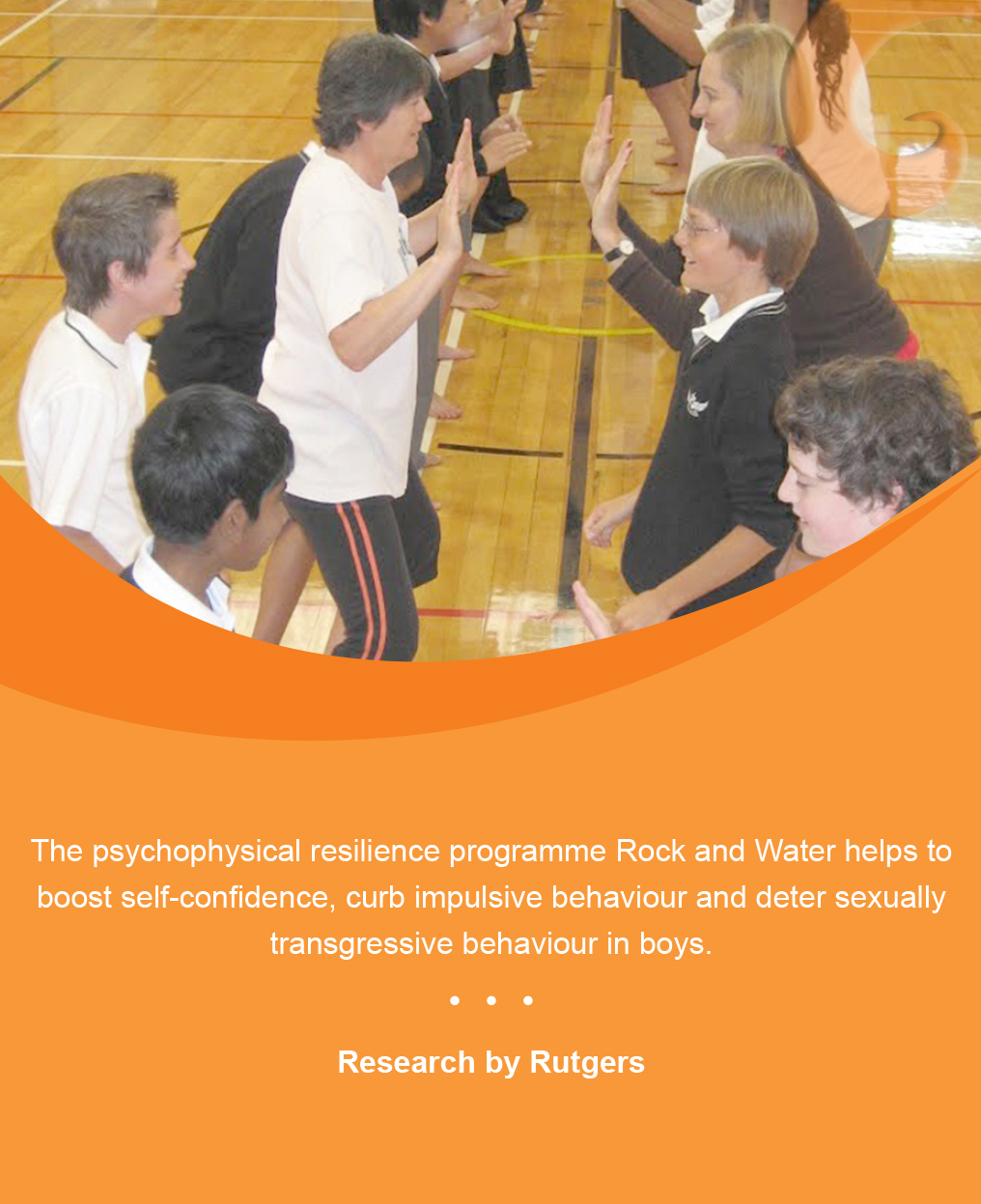 Whilst originally developed for use with males, Rock and Water is widely used for females as well. Physical activities are used as a starting point to develop self-awareness, self-reflection and self-confidence. The programme leads from simple self-defence, boundary and communication exercises to a strong notion of self-confidence.
The programme develops excellent social competency skills and covers a range of topics including: body language, mental strength, intuition, positive thinking, empathic feeling, visualisation skills, verbal communication skills and assertiveness. Woven into the programme are discussions around bullying, sexual harrassment, homophobia, life goals, desires and following an inner compass.
Rock and Water provides participants with a choice of how they wish to react to a situation – with a hard, uncompromising Rock action or with a more communicative Water action. An understanding of the likely consequences of each action are developed in the programme, with the two apparently divergent attitudes becoming much more closely aligned as the individual gains in self-awareness and self-confidence. The Rock and the Water attitudes are developed from physical, mental and social perspectives.
Drug use, violence, bullying and sexual promiscuity are on the rise in our society, in our schools. These have a huge impact on our learning environments, as well as homes, communities and the economy. Students need to be taught self-control, how to respect one another, how to say "No", how to be calm and assertive, how to communicate and how to get along in our multicultural society. They need to be taught how to listen to their inner feelings, recognise their own emotions and those of others, and have the ability to choose their reaction to any situation – a Rock reaction or a Water reaction – there is always a choice.
This programme is developed over a two-day workshop, designed to allow trained facilitators (teachers, youth workers etc) to progressively develop skills from Year One to Eight. Games and exercises have been chosen to fit the developmental needs of the students at particular ages. The programme is supported by an outstanding manual of lesson plans, theory and teaching resources. [See more information]
The versatility of Rock and Water means that it can be used in many different ways to meet the needs of both students and teachers. With the development of the two-day Primary workshop and outstanding training manual, Rock and Water can easily be systematically introduced to students from 5-12 years old – across the school and to enhance existing behavioral and education programmes (eg Restorative Practices, Glasser, PB4L etc). A cost-effective way for schools is to book their own 'closed' in-house workshop, and spend two inspiring and enlightening days of professional development as a team.
The three-day Accreditation workshop looks at the skills and exercises necessary to deliver Rock and Water to students (and adults) from nine years of age. The programme is used in numerous formats, but can be easily linked to the Health or Religious Studies curriculum, run as part of the PE programme, or as a stand-alone development programme for all students or for targeted students. Rock and Water is used in many Special Needs classes as well.
Rock and Water is not a traditional physical education activity however, which can lead to students believing that they have 'lost' their much valued PE time. Ideally Rock and Water would occur in addition to the regular physical activity programmed. There are schools who operate the programme through their Religious Studies curriculum as well. Rock and Water develops many skills relating to values and principles akin to many religions. The programme does not have a particular religion at its heart, more the development of skills that are readily linked to religious values. Rock and Water is also offered by schools as an 'option' in a similar way to Art, Technology, Languages etc.
Because of the nature of the programme it has been used as a tool for working with students that have behavioural issues or self-esteem issues, and has been successful as a 'special programme'. However, Rock and Water has been proven to be more successful if delivered to a whole year group or ideally across a whole school. In this way all the students are aware of the principles, the techniques and develop a more cohesive and collegial community. It is very important that school staff are also aware of the principles, language and techniques.
See what's happening with Rock and Water in New Zealand schools.
Rock and Water New Zealand Ltd specialise in whole-school staff professional development. We can tailor our workshops to meet your needs, including separating workshop days to allow for easier implementation and reflection.
This is a great way to get Rock and Water running across the school, with all staff and students walking and talking the same language and all students building their skills throughout their time at the school. We provide ongoing support and assistance with curriculum development as required, so that developing Rock and Water within an organisation is as easy and stress free as possible.
When we say "train the whole staff", that is exactly what we mean – teachers, office workers, caretakers, teacher aides etc – bring the team together for some fantastic learning and relationship development.
Rock and Water programmes can be shaped by your school or organisation to suit your needs and focus upon specific outcomes (e.g. social skills, bullying, class cohesion, anti-violence, confidence development, goal setting etc.), or your programme can cover all of these over time.
The skills are developed through the use of simple physical exercises and games that can be progressively developed over time or in regular short bursts. A Rock and Water session might be timetabled during the week, or used as energisers on a regular basis – it is a flexible, needs-focused programme that trained facilitators are free to structure to their requirements. (See a summary of the programme's development in some New Zealand schools).
Rock and Water will:
Bring your existing programmes to life – you can shape it to meet the learning goals and needs of your students across the school.
COMPLEMENT the work you are already doing in schools. Restorative conversations are brought to life, Glasser conversations have feeling and as a result are even more effective.
Provide a common language through which you can focus on specific developmental, social, behavioural goals in a way that the students and staff both relate to easily.